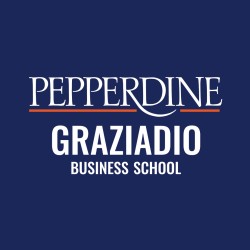 Pepperdine Graziadio Business School Malibu, California, USA
Pepperdine Graziadio Business School
Studying at the Pepperdine Graziadio Business School
Pepperdine Graziadio Business School offers a wide continuum of doctoral, MBA, MS, and executive degree programs taught with purpose-driven leadership and responsible business practices. Through programs such as Education-to-Business (E2B) and Social, Environmentally, and Ethically Responsible (SEER) Business Strategy, we create opportunities for students to experience business in a way that George Graziadio intended—as Best for the World Leaders making a meaningful impact around the globe. Our faculty are personally invested in the success of every student, play a hand in the development of our program curriculums, and offer their first-hand perspectives on the future of the ever-evolving industry. Through small classes and personal cohorts, students become a part of a close-knit, high caliber community that supports their development and enhancement of their professional network.
The Location
Pepperdine Graziadio places each student at the nexus of opportunity and advancement with campuses strategically located in major business hubs: Malibu, West Los Angeles, Calabasas, and Irvine. Each Graziadio campus offers full-scale educational services - executive-style classrooms, faculty offices, technology support, and reference facilities. Our campus is of close proximity to dining, shopping, healthcare, and workout centers for a work-life balance. Known for its stunning coastal views, the Drescher Graduate Campus at Malibu hosts a number of Graziadio graduate classes, as well as special events, and the Villa Graziadio executive center and conference facility. West Los Angeles is the headquarters for the Pepperdine Graziadio Business School.
Financial Aid
The Financial Aid Office at Pepperdine Graziadio is committed to assisting students to explore and understand all the financial aid options that are available to help manage their financial planning and ensure they are able to achieve their educational goals. We extend financial aid through merit scholarships, need-based grants, and student loans, to meet the various needs and circumstances of our students. Each year, the Graziadio Business School generously invests in merit-based scholarships to reward high-quality applicants who demonstrate excellence in past achievements and strong potential to succeed in our programs. Scholarship selections are based on a wide range of factors, including, but not limited to undergraduate GPA, GMAT/GRE scores (if provided), professional accomplishments, leadership abilities, and other strengths noted by the Admissions Committee.
Ranking
Pepperdine Graziadio is a nationally renowned business school, ranked top in the nation, and is highly regarded for its academic and student outcomes. We emphasize a rigorous business education, combined with a collaborative, values-centered environment. We aim to create an enriching student experience that develops the whole person. In 2021 alone, we received numerous recognitions for our business school overall and across several programs, some of which include:
Princeton Review: 2022 Best Business Schools in the nation
CEO Magazine: Tier One Global MBA, Premier Global DBA, #30 Global Executive MBA, #22 Global Online MBA
Bloomberg Businessweek: #51 Best Business School, #20 Diversity, #7 Entrepreneurship
Why to study here
At Pepperdine Graziadio, we are driven by our mission of developing Best for the World Leaders through a transformational, world-class education grounded in leading-edge, experiential learning that is ethical in focus and global in orientation. Steeped in Judeo-Christian values of purpose, service, and leadership, our community, faculty, and staff remain a part of our University to fulfill their purpose. With an "open table concept", we welcome everyone of all faiths and backgrounds as we continually cultivate a community that is dedicated to developing the business executives of tomorrow. Our leadership competency model is purpose-centered, encompassing not just learning and building business skills, but being and discovery of our special purpose as well as doing to learn from practical application in the world. With our students at the heart of our academic enterprise, Graziadio is unique in how it impacts the lives of students; therefore, the companies they work in, the businesses they build, and the work groups they lead.